The next model for my local GW painting competition is the space marine scout biker. Now bikes are awkward, either they are very boringly posed or rather unconvincingly mid wheelie. So after some web based research I found the above image and the following conversion (by maelstrom on Dakka Dakka). I was inspired by this unusual take on a biker, like he's just skidded to a halt and is taking aim at some incoming enemy. After the jump I'll show you how I tried to represent this idea.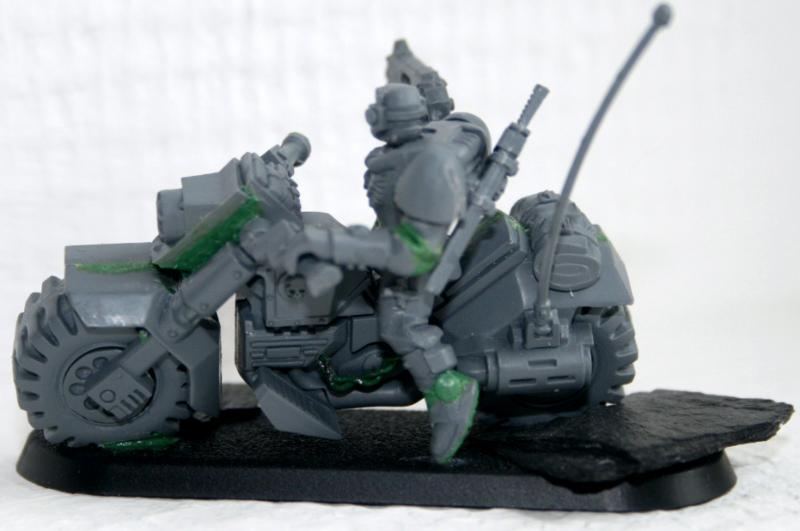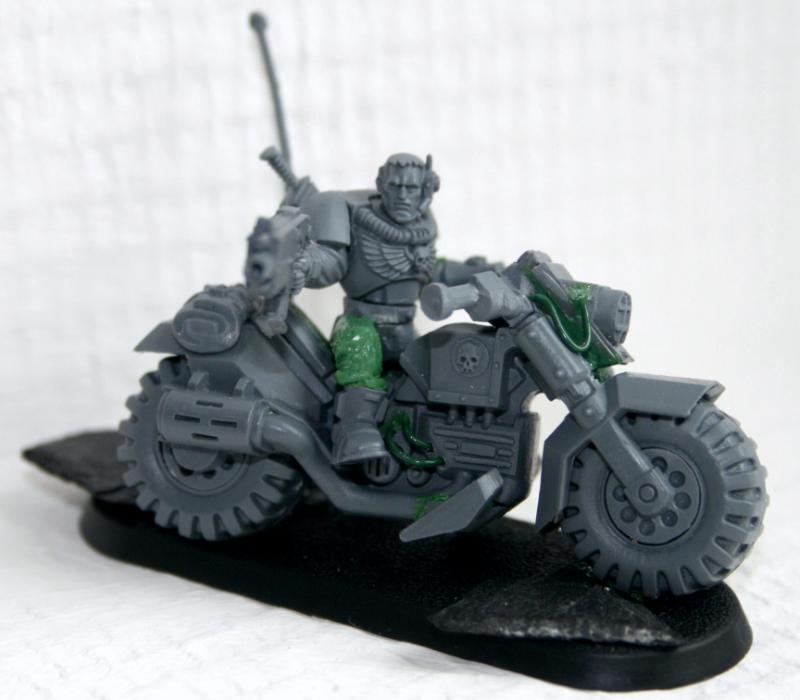 Using the above images as a guide, I started with the scout legs, the right leg was more sharply bent at the knee by cutting out the back of the knee and then pinning it back together (if I was to do this again I would space them out a little to keep the leg a bit longer). The left leg was cut at the hip and turned through 90 degrees before being repinned and the ankle was cut at the front and stretched to have the foot pointing down. After the cutting and pinning I used green stuff to fill in the gaps.
For the bike I wanted to have the front wheel at an angle to make sure it looked at a stop. When the basic bike had been constructed I used my craft knife to cut at the narrowest point as you can see in the picture below.

I then used some sprue offcuts to form the new junction. You can see the piece attached to the main body of the bike has been cut at an angle. This may require a lot of trial and improvement to get an angle you are happy with so take plenty of time over this step.
After I had glued the joint together I made the rest of the bike as normal and fitted to scout on, this took a little bit of jiggling and adjustment to get the arms and every thing lined up. Here are the pictures of the current stage of progress, I'm going to add some bits of equipment to the bike and a pennant.
Next time I'll try to post the details of the base for this biker and the finished conversion ready to paint until then I need some help with a really important question. Which chapter to paint him as......
Any input would be great so please leave your suggestions below.